Netraheen Vikas Sansthan
(
Blind School Jodhpur-Rajasthan-India
)is working for rehabilitation of blind students since last 31 years in Suncity
Jodhpur by
providing free education with boarding and lodging facility separately for boys and Girls
.
The School was started on 15th August 1977 with only two blind students the number of which has gone to 247 at present out of which 90 are girls.This is the only institute for girls with hostel facility in Rajasthan. The school is up to senior secondary level for blind. All the teachers many of whom are even blind also are well trained and highly qualified. The result of 10th and 12th Board exams have always been maintained at
100%
since beginning of school. The Students of the school have been awarded several times Medals and Prizes not only at
National, State and District
level but also at
International level
in the field of various
Education, Sports and Music competitions
.
Braille Printing Machine


The school has imported special Braille printing machine from Sweden in the year 2001 with the help of funds given by than British High Commissioner & Member of Parliament Late Dr.L.M.Singhvi . The machine is very useful for converting books of normal text matter into Braille script which is used by all the students for their schooling.


Audio Recording Facility


There are three mode of teaching to blind students mainly teaching in class room , secondly thru Braille books and lastly by giving them audio cassettes on different subjects which they can hear later on to revise the course contents taught in class room .There are 2768 recorded cassettes of different subject available as on date . The dubbing is done in school's Computer lab only with the latest equipments.





Home Science


Regular cooking & hobby classes are conducted for blind girls to make them self dependant.
Yoga Classes


After visit of famous Yoga Guru Baba Ramdeo in our school, Yoga camps are organized from time to time in the school to keep the students physically fit.





Spiritual Camp


In every session various lectures are organized at frequent interval by famous Saints & Spiritual teachers of different religion to give them morale education and to teach them the importance of relationship of mind, Soul and body. Such lectures are also very helpful to improve the moral character of students and to keep them away from the bad habits like tobacco eating, smoking and drinking etc.




Awards


The state Government awarded the best service institution of the year 2007 by Honorable Dr Pratibha Patil , Government of Rajasthan ad our lady teacher Mrs. Salma Arora awarded as best national teacher in 2004 by Honorable president of India Dr. A.P.J. Abdul Kalam.
Separate Hostels for bind Boys & Girls


In this (Sansthan) Society, separate hostel facilities are available for girls and boys. During 1998-99 a hostel building was constructed for girls with co-operation of District Rural Development Agency and Donors. Three Wardens, peons, cooks and cleaners are also appointed. Good dinning hall with all the modern facilities is available. The students are served energetic break fast, lunch and dinner and a special diet once in a week.





School for Blind Boys and Girls


School building was constructed with the help of economic assistance by the social welfare department and respected which provides education, training as well as hostel facilities to girls. Here we have total 21 trained teachers out of which are 9 are blind. All the study materials and training is provided Free of cost to the students.




Why Should you go with Us ?


Netraheen Vikas Sansthan (NGO) commits for Well developed, educated and technology updated environment for blind students and youth. Institute encourages physical disabled students (Deaf and dumb) for education and develops himself/herself for live with society.





About Founder
A multifaceted diamond in Social work, Academic institutions and Voluntary agencies
Mrs. SUSHILA BOHRA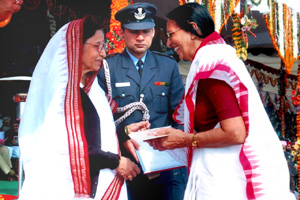 was borned on 20th May 1940 at Jodhpur in a reputed Jain marwari family of Shri M.R.Dhariwal (RAS Retired). After sad demise of  her husband late Paras Mal Bohra at an early age just after marriage in the year 1962 she further studied and started her professional carrier by joining Vanasthali Vidhyapeeth College near Jaipur (Raj) in  year 1966 and later on served as Lecturer in Mahesh Teachers Training College,Jodhpur from 1967 -84  . Due to her dedication  in  social work she was selected by Government of Rajasthan as  Project Director, District Women Development Agency,  Jodhpur in 1984  working for upliftment of women from where she retired in year 1999
after having one Years extension from Govt.of Rajasthan
.
Charity Request
As present we are having 247 children with us and many more blind children are in need of proper care & education. But we are unable to admit them because of shortage of school & hostel accommodation, additional play ground, additional teachers & helpers, study material & furniture etc. Donate us for blind student with happy and pleasent heart.
Send Us Donation Cheque/ DD in Favour of "NETRAHEEN VIKAS SANSTHAN".
Postal Address:
NETRAHEEN VIKAS SANSTHAN
D-Sector, Kamla Nehru Nagar
Jodhpur, Rajasthan, 342003 INDIA.
Founder : Mrs. Sushila Bohra (CEO)


Call Us: +91 941 413 3879, +91 291 2750423, +91 291 2751898


Mail Us: info@jodhpurblindschool.org


Visit Us: www.jodhpurblindschool.org


Loading...