Netraheen Vikas Sansthan
(
Blind School Jodhpur-Rajasthan-India
)is working for rehabilitation of blind students since last 31 years in Suncity
Jodhpur by
providing free education with boarding and lodging facility separately for boys and Girls
.
The School was started on 15th August 1977 with only two blind students the number of which has gone to 247 at present out of which 90 are girls.This is the only institute for girls with hostel facility in Rajasthan. The school is up to senior secondary level for blind. All the teachers many of whom are even blind also are well trained and highly qualified. The result of 10th and 12th Board exams have always been maintained at
100%
since beginning of school. The Students of the school have been awarded several times Medals and Prizes not only at
National, State and District
level but also at
International level
in the field of various
Education, Sports and Music competitions
.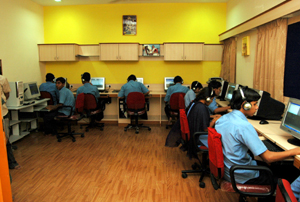 Why Should you go with Blind School ?

Netraheen Vikas Sansthan a renowned NGO is a trusted name among all the residential Schools for Blind in India which is engaged in rehabilitating, developing, and educating disabled persons successfully for last 31 years. The school is recognized by Department of Education, Government of Rajasthan and is run partially by grant in aid from Social welfare Department & donations from Philanthropists.  Blind School has dedicated and experienced team of trained teachers who are expert in giving vocational, physical, musical education besides normal school education up to senior Secondary level. The School is providing free education, lodging and boarding to all the inmates. School has own huge premises having separate building for school, boys and girls hostel.


Future plan:
To start B.Ed classes.
Separate building for mentally retarded students.
Separate Building for Deaf and Dumb students.
To keep the strength for Deaf and Dumb according to norms.
To employee a P.T.I.
To keep one trained English Teacher.
To install Mini Brail Press Software.
Extension of Museum.
Extension of existing lab.
To purchase sports articles, cricket ball, foot ball and toys.
To purchase Musical Instruments
To purchase Mini Bus to carry students.
Appeal :
As present Blind School having 247 blind children and 61 deaf & dumb and mentally retarded students . Many more blind children are in need of proper care & education, but school is unable to admit them because of shortage of school & hostel accommodation, additional play grounds, additional teachers & house keeping staff, furniture and other infrastructure facilities.
Financial help which school gets from the state Government is not sufficient to meet the growing needs and expenditure of this Institute. The respected donors are the only hope for blind school to meet the gap. So blind school humbly request not only to contribute generously for upliftment of disabled persons but also to convince your nearer and dears to visit the Web Site and motivate them to contribute for this noble cause. Your support is also solicited in giving blind school suggestions for better running the NGO.
Send Donation-Charity-Subscribe Cheque/ DD in Favour of
"NETRAHEEN VIKAS SANSTHAN"
Postal Address:
D-Sector, Kamla Nehru Nagar
Jodhpur, Rajasthan, 342003 INDIA.
Online Bank Transfer


UNION BANK OF INDIA,

Account No.

503702010001848
Jodhpur Branch.
Founder : Mrs. Sushila Bohra (CEO)

Call Us: +91 941 413 3879, +91 291 2750423, +91 291 2751898

Mail Us: info@jodhpurblindschool.org

Visit Us: www.jodhpurblindschool.org

Description:

Jodhpur Blind School (Netraheen Vikas Sansthan) is residential school for the blind.

Loading...